The AMGA Conference 2022 is set to facilitate the exchange of ideas among the global mushroom growing community –Growing the future, together.
The Conference will be held on Thursday 27 and Friday 28 October 2022 at the Crowne Plaza Adelaide, with a pre-conference farm tour scheduled for Wednesday 26 October.
The exhibition on Thursday and Friday is an essential part of the conference and provides a platform for our sponsors and exhibitors to speak face-to-face with decision makers and connect with other companies in the market.
With two exceptional networking functions, the AMGA Conference offers a great opportunity for delegates to re-connect, as it has been four years since our previous industry conference.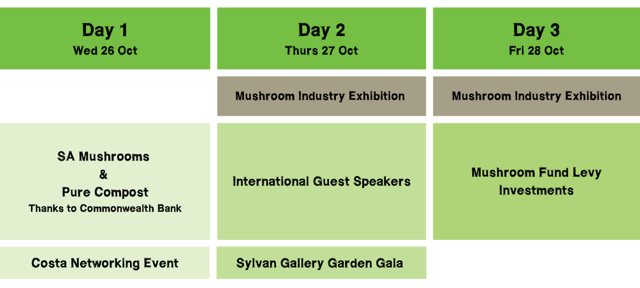 AMGA CONFERENCE 2022 PROGRAM
Farm Tours
| | |
| --- | --- |
| | |
| Assemble in foyer at 8.30. Bus leaves at 9am sharp. | Travel by bus from Crowne Plaza to Pure Compost |
| | Tour of state-of-the-art compost facility, Pure Compost |
| | Travel by bus from Pure Compost to SA Mushrooms |
| | Lunch at SA Mushrooms and presentation from our tour sponsor, Commonwealth Bank |
| | |
| | Travel by bus from SA Mushrooms to Crowne Plaza |
| | |
| FUNCTION: 6.00pm - 10.00pm | |
International Guest Speakers
Nick Femia - SA Mushrooms

Welcome from our chairman

Roland van Doremaele - Christiaens

Dr. Ralph Nobel - Microbiotech

Bridgett Hendrix - Mushroom Harvesting Consultancy

Anne-Marie Artsm The AgriChain Centre

Climate Change, Pathogens and Food Safety

The Ukraine Mushroom Industry

FUNCTION:

6.30 - 10.30 pm

Sylvan Gallery Garden Gala
Hort Innovation Mushroom Fund – Levy Investment Updates
Brett Fifield, CEO, Hort Innovation

Mark Spees, Industry Strategic Partner

Hort Innovation investment update

Jane Smith & Kylie Hudson, General Managers of Marketing, Hort Innovation

Australian Mushrooms Marketing Update

Leah Bramich, Relationship and General Manager, AMGA

Dr. Flavia Fayet-Moore, Nutrition Research Australia

Educating the Food Industry about the Nutritional Benefit of Australian Mushrooms

Dr. Welma Stonehouse, CSIRO

Mushrooms and their Potential Health Benefits in Lowering Blood Cholesterol

Dr. Jenny Ekman, Applied Horticultural Research

Food Safety, Quality and Risk Management

Dr. Michael Kertesz - The University of Sydney

Developing a database of bio-markers for compost quality control to maximise mushroom production yield and, Optimising nitrogen transformations in mushroom production

Dr. Warwick Gill, University of Tasmania, and Judy Allan

Pest and Disease Management Approach for the Australian Mushroom Industry

Nick Femia - Conference Chairman, Closing remarks
* Please note that the speakers program is subject to change without notice.
FARM WALK PROGRAM
WEDNESDAY 26 OCTOBER – 9.00am – 4.30pm
Pick up at the Crowne Plaza Hotel foyer, at 8.30am sharp.
Travel to Pure Compost for a tour of the compost facility
Travel to SA Mushrooms for a tour of their mushroom farm.
TRANSFERS AND LUNCH INCLUDED, THANKS TO THE COMMONWEALTH BANK
SOCIAL FUNCTIONS
THURSDAY 27 OCTOBER – 6pm – 10pm
Costa Networking Function
2KW Restaurant + Bar, 2 King William Street, Adelaide. 
FRIDAY 28 OCTOBER – 6.30pm – 10.30pm
Sylvan Gallery Garden Gala
Adelaide Art Gallery, North Terrace, Adelaide.